With each New Year comes a need for change---from everything from lifestyle to appearance. Let's take a look at how some of our favorite celebrities transformed their hair in 2013.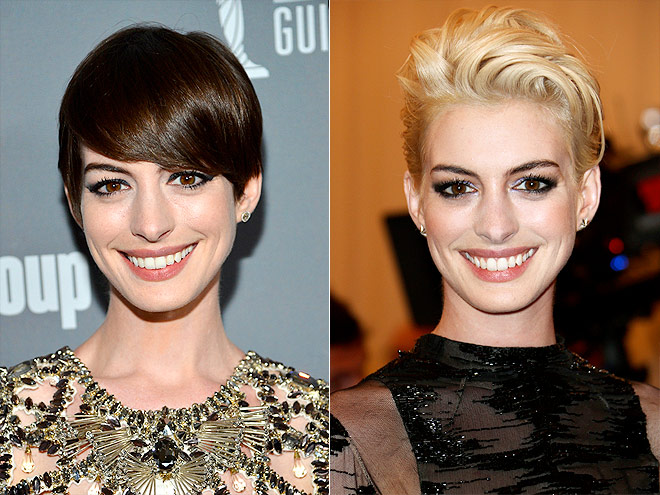 Anne Hathaway in the past was well known for being the girl next door, one of her most defining features being her shiny raven locks. She began this year with a drastically short hair, cut for her Oscar winning role in Les Miserable. For many of her fans, the change was unexpected and gave her a more mature experience. Later on in the year she shocked many by bleaching her hair blond to complete her look for this year's Met Gala punk rock theme.  The shocking change was short lived and she later dyed her hair back to it brunette color.  
Superstar entertainer Beyoncé Knowles is known for her long flowing main of honey blonde hair. The singer brought in the New Year with a bangs, a slight departure from her normal look. She then channeled another trend with a faux shaved side. Later in the year, the star shocked many when she cut her hair into a short pixie cut. Within a week she was spotted with a sleek and edgy bob, prompting many to question if she was switching up
her look with the help of wigs.
Pop sensation Katy Perry has been known to drastically change her hair color neon pink to "Smurfette" blue. Surprisingly to some, she began the year with basic dark hair. With the release of her latest single, she switched to a subtle dark purple. Her new look continues to show her daring
playfulness, but shows that oddly hued hair can have an air of sophistication.
Newcomer Jennifer Lawrence came to the scene with her sun-kissed blonde locks instantly conveying her sweet Kentucky charm. Seen as one of the most relatable film star, she shocked countless admirers when she decided to chop her hair into a chunky pixie cut. This new look is much more sophisticated and makes her appear a bit older and every bit of an Oscar winner actress.
Sexy Siren Rihanna is known for her knack for taking risks with her style and doing a complete 360, sometimes overnight. She opened the year with a closely cropped short cut, which highlighted her appealing facial structure. She wowed fans again by donning long wavy extensions at this year's Grammy awards, proving that she can rock any look, long or short. Later on in the year, in a move that puzzled many, the star introduced a new look altogether, what she calls a "sexy mullet". This is a look that is definitely Rihanna-centric, personifying her edgy, rock star persona.